INFORMATION > About Bulgaria



Properties in Bulgaria have become a reason for many foreigners to visit the country. Buying either a house, a cheap cottage, a luxury villa, coastal apartment or a studio, or simply investing in land – agricultural or in regulation has been an initial reason for visiting this beautiful country.
Once you visit the country, it won't sound strange to you and you will always bear part of its spirit and spread it worldwide. If you haven't visited Bulgaria before, we recommend you staying in a house for rent and you will manage to get to know the locals, who are always happy to meet foreign cultures.
A Great Place to Holiday and Live
Although quite a small country, Bulgaria has a whole range of attractions within its borders. Mountain ranges with skiing in winter and nature walks in summer, to the 220 miles of beach fringed coastline, known as the "Black Sea Riviera".
The climate suits those who prefer their summers hot but not stiflingly so, with temperatures around 30 degrees centigrade along the coast. Reasonable rainfall gives the countryside a pleasant lush greenness, with a huge range of plants and thick forests. Where flower covered meadows may be just past memories in much of Western Europe, here in Bulgaria they still exist, to delight the senses. Ideal growing conditions produce excellent quality foods, often organic, and good quality Bulgarian wine.
The high taxes and production costs in EU counties can make holidays and second homes there an expensive experience. Bulgaria by contrast is low cost, remarkably so. The local currency, the Lev, is pegged to the Euro and does not reflect its true intrinsic value. In other words, it's not as highly valued as it should. This helps Bulgarian exports and foreigners who wish to invest. The country seems determined to join the EU in 2007, so this window of opportunity is limited.
As for the housing market, a lot of property can be bought for not much money. Over the past year prices have risen sharply, particularly in the main coastal areas, but there is still a long way to go to reach "European levels". Of course, many will equate low prices with high risk. It's normal to have anxiety about the unknown or unusual. The reality, however, should reassure. Bulgarians have always valued private property, as shown by their very high levels (equal to UK) of home ownership, even during Communist times. Their experience of those difficult years now motivates them to modernize and reach out to opportunity. It's a generally friendly country, with a long history of dealing with conflict that makes them tolerant and easy going. Tourism is recognized by the government as a key industry for them and foreign investment is welcomed.
The Black Sea Coast
Bulgaria's coastline is one of the last warm European coastlines yet to be developed. Only about 3 1/2 hours flying time from UK, it is an alternative to the Mediterranean. It is attracting the lion's share of property investment, from hotel building to the purchase of private villas and apartments. The prime area around the coastal city of Varna is where blackseavillas.net specializes.
Nowadays, Varna officially has 330 000 citizens, a figure that in reality probably reaches the half million mark. In the summer months this figure rises even more, when all those keen on entertainment, work or leisure come to spend their best summer in the Black Sea capital of Bulgaria. That figure is sure to grow as major carriers such as BA start direct flights into this great City.
Walking down the main pedestrian street, or sipping a morning coffee just across from the fascinating fountain's display, or jogging along the miles- long alleys of the Sea Garden, you can see life in its whole splendour and colour.
Varna is lively and ever developing city, a town that welcomes many thousands of visitors each year and still greets everyone of them with a smile.
Keeping the city young and always up to date are the thousands young Varna citizens. Varna has five universities and two colleges, which alone make a total number of over 60 000 young and full of life people. It is also the home of one of the most prestigious Higher Education institutions in Bulgaria- The National Navy Academy.
Laying down at the beach, shopping, or dancing till the break of dawn -what ever you choose to do in Varna it will be cheap, unforgettable, fun and exciting.
---
IN DETAILS ABOUT BULGARIA'S COASTAL MOST POPULAR PLACES TO VISIT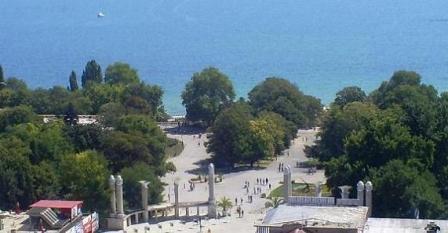 We also offer you to learn more about different places of interest along the coast in Bulgaria:
| | | | |
| --- | --- | --- | --- |
| | | | |
| | | | |
| | | | |
| | | | |
| | | | |
| | | | |
| | | | |
| | Sozopol | Ravda | |