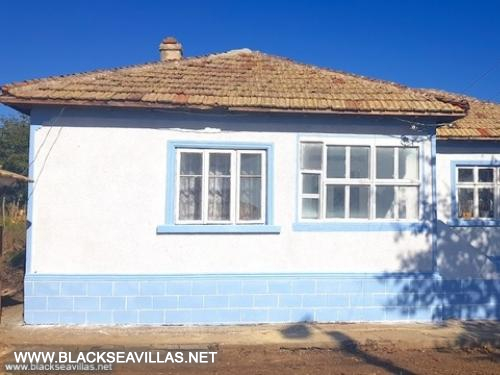 GENERAL INFORMATION
3 bedroom cottage with land, close to beautiful beaches
Here's a great place to holiday in, to escape the rat race and enjoy the warmth and beaches of sunny Bulgaria.
Walnut Tree cottage offers so much. Spacious accommodation, garage and a massive garden extending to over ½ acre (2,522m2). That's way more land than typical for village properties. There is also a range of very handy outbuildings.
The place offers privacy, great views on the edge of Vidno village, which is only 12 miles by good straight road to the coast! There you'll find some of Europe's best beaches. Either un-crowded lesser know beaches, or miles of super modern resort beaches. Village has a shop and wonderful local produce is sold all round the area.
Plus some of the country's top golf resorts are just a short drive away
Whatever you fancy, this part of the Bulgarian coastline offers it.
The cottage looks great, with the sun beating down on the sky blue façade. It's a wide building and provides 3 bedrooms, kitchen and shower room with internal WC, plus outbuildings. At this low price, it's rare to find property with internal facilities so close to the coast.
The property was bank repossessed with all furniture and utensils left in the property. What you see in the pictures (taken late October this year) is what you are buying! Walnut tree cottage is in good condition and a place you can move into right away.
Of course, the property isn't super modern. But it provides a livable home that you can upgrade as you wish. Full support available from our agency, serving clients for over 14 years, post sale if needed.
Outside, there's a handy garage and very large gardens, complete with a range of trees and shrubs. Such space offers endless possibilities. Make a massive lawn. Start up a caravan site to keep you occupied as you enjoy the laid back lifestyle of Bulgaria.
And Bulgaria is a small European country that's strongly on the up. EU funds are pouring in as happened to Ireland in the 70's and 80's, plus Bulgaria has Europe's lowest corporate and personal taxes.
The area has many foreign home owners, attracted by the fantastic climate, and friendly laid back lifestyle. It's the place to lose stress and enjoy life.
It's not difficult to get to Walnut Tree cottage from the UK. Just over 3 hour flight by budget airline and then only 50 miles from Varna airport to the property.
This property is priced to sell! Direct from the bank with sale price of 12.499 Euros, with clean freehold title. You can own in your own name(s) or we can set up a company to own it for you.